4365 Studio Monitor
300-watt, 15" three-way monitor
Product Specifications
Finish

Cherry
Type

Floor-Standing Speakers
Nominal Impedance

8 ohms
Maximum Recommended Amplifier Power

50W – 300W
Crossover Frequencies

750Hz, 15kHz
Enclosure Type

25mm (1")-thick MDF stock, dual-ported
Frequency Response

35Hz – 40kHz (–6dB, anechoic)
Sensitivity

93dB (2.83V/1m)
Weight (lb)

190
Depth (in)

16-7/8
Height (in)

41-1/4
Weight (kg)

86.4
Height (mm)

1048
Depth (mm)

429
Width (mm)

597
Width ( in)

23-1/2
Controls

Switch attenuators for HF and UHF drivers
Connector Type

Dual gold-plated five-way binding posts
High-Frequncy Transducer

100mm (4") compression driver with magnesium-alloy diaphragm and
Low-Frequency Transducer

380mm (15") cone driver with Vented Gap Cooling™, a 100mm (4")
Ultra High Frequency Transducer

25mm (1") compression driver with pure titanium diaphragm
300-watt, three-way studio monitor for those who desire unmatched sound.
Since the 1970s, JBL® engineers have designed and built the most sought-after recording-studio monitor speakers. Now they bring their world-famous sound into your home with an exceptional three-way studio monitor that looks as breathtaking as it sounds. Designed to please even the most critical audiences, the JBL 4365 monitor features a massive, 15-inch (380-millimeter) woofer that delivers floor-rattling bass; a 4-inch (100-millimeter), magnesium-alloy dome diaphragm for crystal-clear highs; and a 1-inch (25-millimeter) ultrahigh-frequency transducer for audio that extends above the range of human hearing. The speaker also contains high-frequency SonoGlass® and ultrahigh-frequency Bi-Radial® horns to help maintain consistent, low-distortion sound and eliminate horn resonances. And the monitor's switch attenuators let you tailor your audio to match your room acoustics. The frequency response of the 4365 goes as low as 35Hz, which hits nearly the lowest note audible, and as high as 40kHz, well above the range of human hearing. Speaking of range, this speaker can handle up to 300 watts when powered by a separate amplifier. This system's a looker, too. Its blue grill and walnut-lacquer finish give it a vintage feel. The unit measures 41 by 23-1/2 by 17 inches (1048 by 597 by 429 millimeters) and weighs 190 pounds (86.2 kilograms). If you're a true audiophile who wants the best possible sound, you'll find the JBL 4365 hard to beat.
JBL engineers designed the JBL 4365 Studio Monitor to deliver enhanced, room-filling sound from a compatible AVR (audio/video receiver) or 25- to 300-watt power amplifier.
The 4365 features a massive, three-layer cone that reproduces low tones down to the depths of 35Hz. To help disperse heat for reduced power compression and increased reliability, it also features a 4-inch (100-millimeter) voice coil, accordion surround and Vented Gap Cooling™ technology. All of these features help to create the most realistic sound with low distortion.
The 4365's 4-inch (100-millimeter) compression driver is constructed with a magnesium-alloy diaphragm, which helps provide exceptional high-end response with low distortion. It also minimizes unwanted vibrations throughout the speaker's cabinet. You'll experience natural, realistic tones from all your music and movies.
We've built the 4365's 1-inch (25-millimeter) ultrahigh-frequency compression driver from titanium. Titanium's strength and light weight make it perfect for reproducing crystal-clear, ultrahigh frequencies quickly, accurately and without strain or distortion – even when you crank up the volume.
A single front-mounted port in the 4365 provides optimal low-frequency tuning for extended bass response. It also lets you place the speaker against a wall with no sound anomalies.
The 4365's high-frequency and ultrahigh-frequency transducers operate with Bi-Radial horns shaped for smooth frequency response and precise imaging. The horns are made from dense, inert SonoGlass material to eliminate unwanted sonic colorations. JBL engineers have optimized this structure for extreme heat resistance, low resonance, vibration-resistant rigidity and superior acoustics.
Adjustable high-frequency and ultrahigh-frequency attenuators within a high-quality dividing network let you tailor the midrange and high-frequency performance of your 4365 to match room acoustics or your own personal taste.
JBL loudspeakers have been the choice of music and movie professionals for more than 60 years; they are behind the screens of more than 50 percent of all movie theaters and hang in concert venues everywhere. Many of your favorite songs and movie soundtracks were mixed or mastered on JBL studio monitors. But you don't have to be a recording-industry pro to bring JBL sound home. Our home systems use technologies, materials and manufacturing techniques developed for professional speakers.
Images & Videos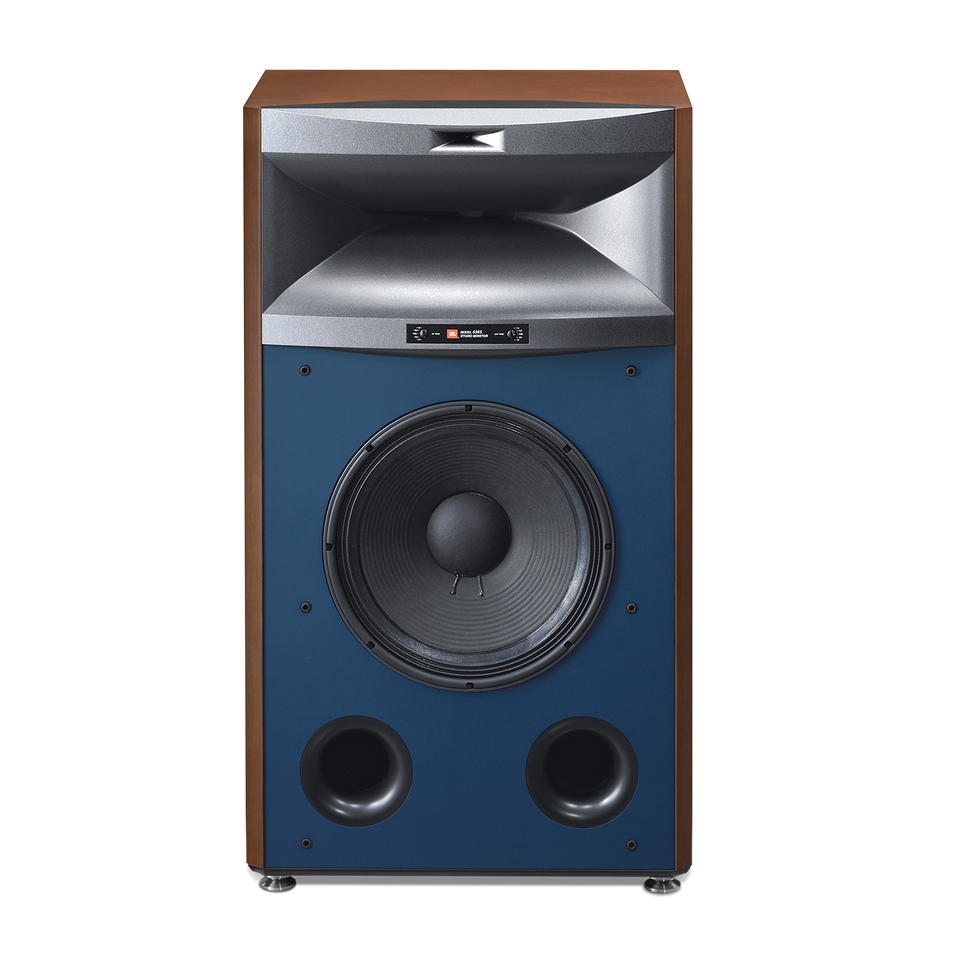 Can't find what you're looking for?
Call Us
Talk to a support agent
Call us now at: (800) 336-4525

Mon - Fri: 9:00 am - 11:00 pm (ET)
Sat - Sun: 9:00 am - 5:00 pm (ET)
Chat With Us
Mon - Fri: 9:00 am - 11:00 pm (ET)
Sat - Sun: 9:00 am - 5:00 pm (ET)