JBL OnBeat Rize
iPad dock with an alarm clock
Getting started with your JBL OnBeat Rize
Wake up to your own music.
Good morning, your iPad is calling. Rather than wake up to the shrill noise of an alarm clock, how would you like to open your eyes and ears to the sound of your favorite music? Thanks to the JBL OnBeat™ Rize, you can. As a perfect bedside companion, this loudspeaker dock is designed to work exclusively with your iPad and other iOS® devices such as your iPhone and iPod. Put the device in the dock, and the dock recharges the device while you're catching some sleep. Come morning, the dock awakens you with music from your own library – and if you're not ready to get up right away, it offers a snooze-control button. The free AmpUp™ downloadable app is available to customize your bedside experience fully by pre-programming music to help you fall asleep, access your daily calendar and stylize your theme. The dock also includes Slipstream port technology for exceptional bass, powerful drivers and an easy-to read display screen. JBL engineers have been devising and installing sound systems for concert halls, arenas, theaters and other public venues – and with the JBL OnBeat Rize, they bring the sharp, clear JBL sound to your bedside. We think you'll love it.
Rather than wake up to shrill alarms, you can serenely open your eyes to your favorite music. Download the free JBL AmpUp companion app, which allows you to customize your wake-up theme, choose a lullaby that helps you fall asleep to music, and access your daily calendar.
JBL Slipstream port technology provides listeners with powerful, great-sounding low frequencies at low distortion. You'll experience bass that you can really feel.
Two JBL full-range transducers provide you with room-filling sound. Experience clear highs and mids plus exceptional bass – all from your tiny bedside companion.
Whether your iOS device is Bluetooth®-enabled or not, the JBL OnBeat Rize's auxiliary-input (aux in) connection lets you plug it in and hear its music in amazing fidelity.
We know that everyone needs some extra shuteye upon awakening, so we made it easy to get. The JBL OnBeat Rize's smart-touch snooze controls allow you to tap your bedside table for extra sleep.
This work of beauty isn't just for your iPad. You can use its free AmpUp app with your iPhone and iPod touch as well as with your iPad – and recharge them, too. What's more, the JBL OnBeat Rize can also recharge the iPod nano and iPod classic.
There's no need to squint in the dark – the JBL OnBeat Rize prominently displays all your information, including the weather, time, calendar and current track, on your iPad. We've included brightness controls that make it easy to read the dock's integrated clock when you need a little extra light.
To combat the placement variations in one's room, and human hearing deficiencies at higher frequencies, the JBL OnBeat Rize offers a frequency response that delivers the full-range response associated with exceptional sound.
Don't be fooled by size. Since this little powerhouse is a JBL speaker system, you can have faith that it delivers just the right amount of great JBL sound – whether you need it to help you fall asleep or get your day going.
Unfortunately, the JBL AmpUp App is no longer available for download.

Was this helpful?

Thank you for your feedback!
Images & Videos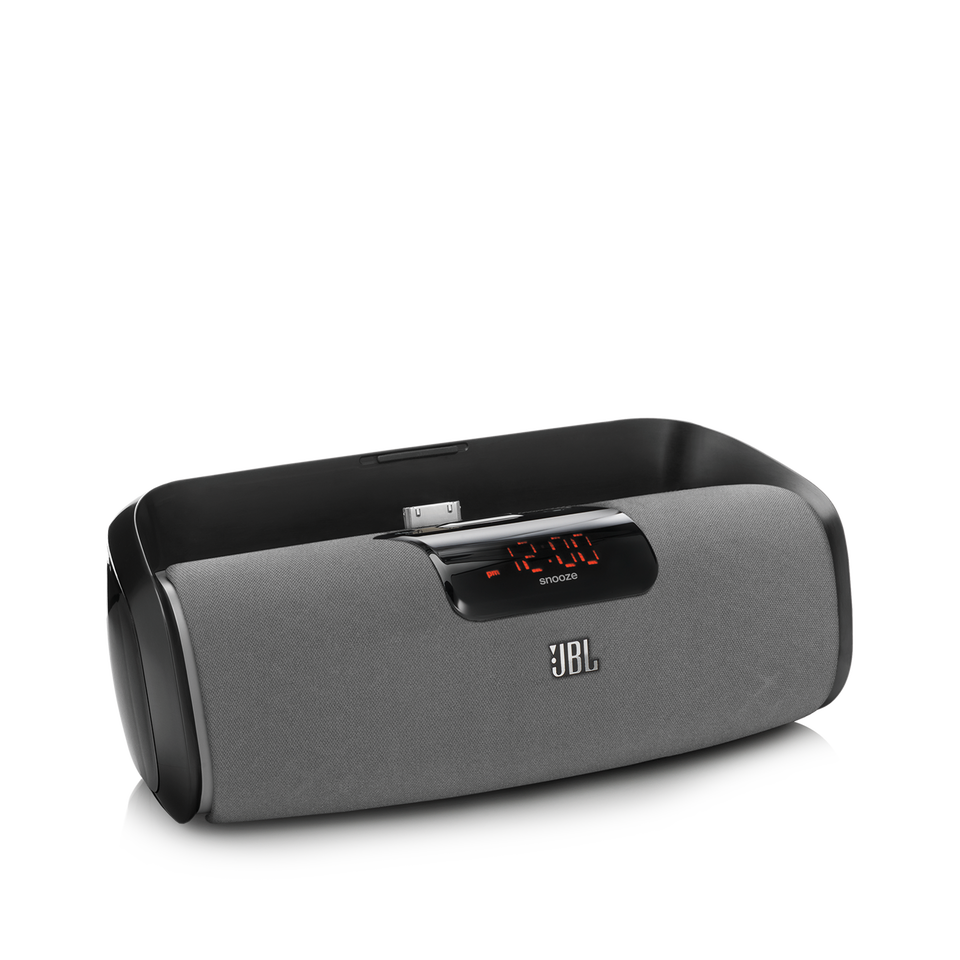 Can't find what you're looking for?
Call Us
Talk to a support agent
Call us now at: (800) 336-4525

Mon - Fri: 9:00 am - 11:00 pm (ET)
Sat - Sun: 9:00 am - 5:00 pm (ET)
Chat With Us
Mon - Fri: 9:00 am - 11:00 pm (ET)
Sat - Sun: 9:00 am - 5:00 pm (ET)