AVR 580
7.1-Channel High-Performance Audio/Video Processor/Amplifier
Product Specifications
Power Requirements

AC 220 – 240V/50Hz
Power Consumption

118W idle, 890W maximum (7 channels driven)
Amplifier Power (RMS)

FRONT... 100W + 100W (8 ohms/20Hz – 20kHz, 0.08% THD)
Amplifier Power (RMS)

FRONT... 150W + 150W (6 ohms/EIAJ)
Amplifier Power (RMS)

CENTER... 100W (8 ohms/20Hz – 20kHz, 0.08% THD)
Amplifier Power (RMS)

CENTER... 150W (6 ohms/EIAJ)
Amplifier Power (RMS)

SIDE & SURROUND... 100W + 100W (8 ohms/20Hz – 20kHz, 0.08% THD)
Amplifier Power (RMS)

SIDE & SURROUND... 150W + 150W (6 ohms EIAJ)
Input Level/Impedance

200mV/47k ohms - Linear (High-Level)
Signal-to-Noise Ratio

95dB (IHF-A)
Surround System Adjacent Channel Separation:
Analog Decoding (Dolby Pro Logic, etc.)

40dB
Dolby Digital

55dB
DTS

55dB
Frequency Response

10Hz – 100kHz (+0/-3dB @ 1 watt)
High Instantaneous Current Capability (HCC)

± 35 Amps
Transient Intermodulation Distortion (TIM)

Unmeasurable
Rise Time

16µsec
Slew Rate

40V µsec (Without input anti-slewing and output isolation networks)
Weight

18.1kg (40 lb)
Dimensions (H x W x D)

168mm x 440mm x 435mm (6.6 inch x 17.3 inch x 17.1 inch)
Video Formats

PAL/NTSC
Input Level/Impedance

1Vp-p/75 ohms
Output Level/Impedance

1V/75 ohms
Video Frequency Response:
Composite and S-Video

10Hz – 8Mhz (-3dB)
Component Video

10Hz – 35Mhz (-3dB)
Frequency Range

AM... 522 – 1620kHz
Frequency Range

FM... 87.5 – 108.0MHz
China, Singapore

FM... 0.05MHz
Korea

FM... 0.1MHz
Signal-to-Noise Ratio

AM... 45dB
Usable Sensitivity

AM... Loop... 500µV
Usable Sensitivity

FM... IHF 1.3µV/13.2dBf
Distortion

AM... 1kHz, 50% Mod 0.8%
Signal-to-Noise Ratio

FM... 70/65 dBA (DIN, 60 dBµV) (Mono/Stereo)
Distortion (Mono/Stereo)

FM... 0.15/0.3%
Selectivity

AM... ± 9kHz, 30dB
Stereo Separation

FM... 35dB @ 1kHz
Selectivity

FM... ±300kHz... 65 dB
Image Rejection

FM... 80dB
IF Rejection

FM... 90dB
AVR580 - MULTICHANNEL, MULTIMODE, MULTIFEATURED. EVEN MULTIROOM. The JBL AVR580 is designed to deliver more of just about everything you could want in an A/V receiver. Start with more channels (the AVR580 offers seven, all high-current-capable). Engineer in more advanced technologies (including Logic 7 and VMAx processing, MP3 decoding, EzSet optimization, and Zone II multiroom source distribution). Add more playback modes (Dolby Digital, Dolby Digital EX, Dolby Pro Logic II, DTS, DTS-ES Discrete and Matrix, DTS Neo:6 and more), not to mention more inputs (including front-panel analog A/V, coaxial and optical digital inputs) and outputs. And, of course, more power (JBL's long-standing hallmark).
Images & Videos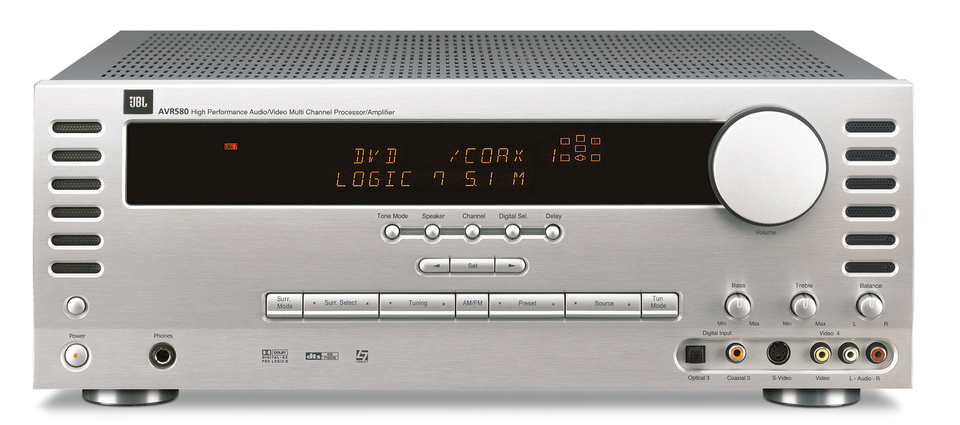 Can't find what you're looking for?
Call Us
Talk to a support agent
Call us now at: (800) 336-4525

Mon - Fri: 9:00 am - 11:00 pm (ET)
Sat - Sun: 9:00 am - 5:00 pm (ET)
Chat With Us
Mon - Fri: 9:00 am - 11:00 pm (ET)
Sat - Sun: 9:00 am - 5:00 pm (ET)