AVR 480
5.1-Channel High-Performance Audio/Video Processor/Amplifier
Sold from 2004 until now
Product Specifications
Power Requirements

AC 220 – 240V/50Hz
Power Consumption

72W idle, 580W maximum (5 channels driven)
Amplifier Power (RMS)

Front Channels... 100W + 100W (6 ohms/EIAJ)
Amplifier Power (RMS)

Front Channels... 75W + 75W (8 ohms/20Hz – 20kHz, 0.08% THD)
Amplifier Power (RMS)

CENTER... 100W (6 ohms/EIAJ)
Amplifier Power (RMS)

CENTER... 75W (8 ohms/20Hz – 20kHz, 0.08% THD)
Amplifier Power (RMS)

SURROUND CHANNELS... 100W + 100W (6 ohms/EIAJ)
Amplifier Power (RMS)

SURROUND CHANNELS... 75W + 75W (8 ohms/20Hz – 20kHz, 0.08% THD)
Input Level/Impedance

200mV/47k ohms - Linear (High-Level)
Signal-to-Noise Ratio

90dB (IHF-A)
Surround System Adjacent Channel Separation:
Analog Decoding (Dolby Pro Logic, etc.)

40dB
Dolby Digital

55dB
DTS

55dB
Frequency Response

10Hz – 65kHz (+0/-3dB @ 1 watt)
High Instantaneous Current Capability (HCC)

± 25 Amps
Transient Intermodulation Distortion (TIM)

Unmeasurable
Weight

11kg (24.2 lb)
Dimensions (H x W x D)

168mm x 440mm x 435mm (6.6 inch x 17.3 inch x 17.1 inch)
Video Formats

PAL/NTSC
Input Level/Impedance

1Vp-p/75 ohms
Output Level/Impedance

1V/75 ohms
Video Frequency Response

10Hz – 8MHz (-3dB)
Frequency Range

AM... 522 – 1620kHz
Frequency Range

FM... 87.5 – 108.0MHz
China, Singapore

FM... 0.05MHz
Korea

FM... 0.1MHz
Signal-to-Noise Ratio

AM... 45dB
Usable Sensitivity

AM... Loop... 500 µV
Usable Sensitivity

FM... IHF 1.3µV/13.2dBf
Distortion

AM... 1kHz, 50% Mod...0.8%
Signal-to-Noise Ratio

FM... 70/65 dBA (DIN, 60 dBµV) (Mono/Stereo)
Distortion (Mono/Stereo)

FM... 0.15/0.3%
Selectivity

AM... ± 9kHz, 30dB
Stereo Separation

FM... 35dB @ 1kHz
Selectivity

FM... ±300kHz... 65 dB
Image Rejection

FM... 80dB
IF Rejection

FM... 90dB
AVR480 - 5.1 CHANNELS OF SOUND. LIMITLESS CONNECTIVITY. With connections for up to four video devices (three with both composite and S-video inputs), front-panel inputs for camcorders, video games and MP3 players, three additional analog and two digital audio inputs, and even a coaxial digital output for a direct connection to digital recorders, the JBL AVR480 is one of the most versatile A/V receivers ever made. And with onboard Dolby Digital and DTS decoding using Cirrus chip technology, plus JBL's innovative high-current design, it's also one of the most capable. From Hollywood's ultimate thrill ride to the most stirring passages of classical music, the AVR480 delivers a heightened, Synthesis-like experience as only JBL can. And it may make you yearn for still more digital stuff to connect.
Images & Videos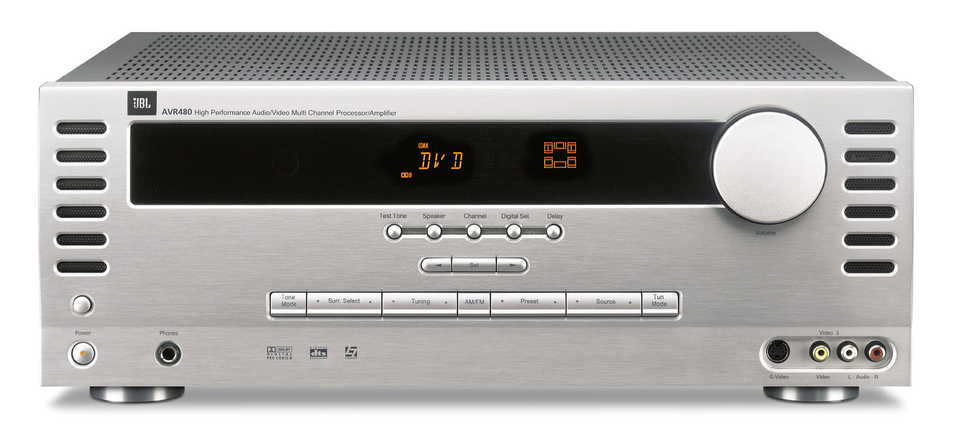 Can't find what you're looking for?
Call Us
Talk to a support agent
Call us now at: (800) 336-4525

Mon - Fri: 9:00 am - 11:00 pm (ET)
Sat - Sun: 9:00 am - 5:00 pm (ET)
Chat With Us
Mon - Fri: 9:00 am - 11:00 pm (ET)
Sat - Sun: 9:00 am - 5:00 pm (ET)