JBL On Time 200P
AM/FM radio dock for iPod/iPhone
Getting started with your JBL On Time 200P
Product Specifications
Power Consumption

30W
Power Output

2 x 6W
Series

On Time
Input Impedance

>5k ohms
Frequency Response

70Hz – 20kHz
Signal-to-Noise Ratio

>80dB
Optimized Compression Topology (OCT)

Yes
Computer-Optimized Equalization (COE)

Yes
Width (mm)

284
Weight (lb)

1.8
Depth (in)

5-3/4
Height (mm)

70
Height (in)

2-3/4
Weight (kg)

0.8
Width (in)

11-3/16
Depth (mm)

146
Liquid-Crystal Display

Yes
Transducer

Phoenix SE 1-3/4" (45mm) x 2 (full range per channel)
A small but enormously flexible loudspeaker dock and clock radio.
No more obnoxious buzzers. No more annoying radio commercials (unless you like them, of course). Wake up peacefully refreshed with the JBL On Time™ 200P. This system is a fully loaded loudspeaker dock and AM/FM clock radio with RDS (Radio Data System), 10 presets, seven independent alarms, an intuitive interface, easy-to-use touch controls and an IR (infrared) remote control. And it can start your day with music from your very own iPod, iPhone, tablet, MP3 or CD player, desktop or laptop computer – all in famous JBL® quality. The system's two high-performance JBL Phoenix transducers deliver big sound with accuracy and detail that you'd never expect from such a small system – only 11-3/16 by 5-3/4 x 2-3/4 inches (284 x 146 x 70 millimetres). Its system equalization is computer-optimized to provide a rich, complete soundstage, and it uses proprietary compression technology to ensure clean, accurate sound at high output levels. The dock's large, backlit LCD enables easy viewing and menu navigation; automatic dimming sets the correct brightness level in any environment. And it can charge your iPod or iPhone while you sleep. Can your clock radio rock that hard?
The JBL On Time 200P dock and clock radio produces superior sound quality that you'd expect from a system many, many times its size. When you want a low profile combined with high performance, the choice is the JBL On Time 200P.
The JBL On Time 200P's outstanding connectivity starts with all docking versions of iPod and iPhone. You can also connect to a CD player, desktop or laptop computer, or almost anything else with a stereo mini-jack output. You can even display your videos and photos from these sources on a TV monitor.
The JBL On Time 200P's two rigid, lightweight, aluminium JBL Phoenix transducers deliver realistic, full-range sound with minimal distortion. These transducers have an impressive 70Hz – 20kHz frequency response with deep, satisfying bass. They're also computer-optimized for a 360-degree soundstage.
Thanks to your JBL On Time 200P, you can have 10 station presets and easy access to your favourite music, news and talk radio. This system also has a clock with seven independent alarms. Wake at different times in different ways: the system's radio, its buzzer or your music with artist, album and track information on the LCD display.
The JBL On Time 200P system's Evercharge topology enables it to charge your iPod/iPhone devices without a computer connection – even if the system is off. Just plug it into AC power.
An intuitive menu-driven interface, lighted navigation buttons and one-touch volume, source and snooze controls make setup and operation of the JBL On Time 200P easy – even when you're half asleep.
With the JBL On Time 200P's IR (infrared) remote, you can control the system's volume and navigate your music from up to 15 feet (4.6 metres) away.
Images & Videos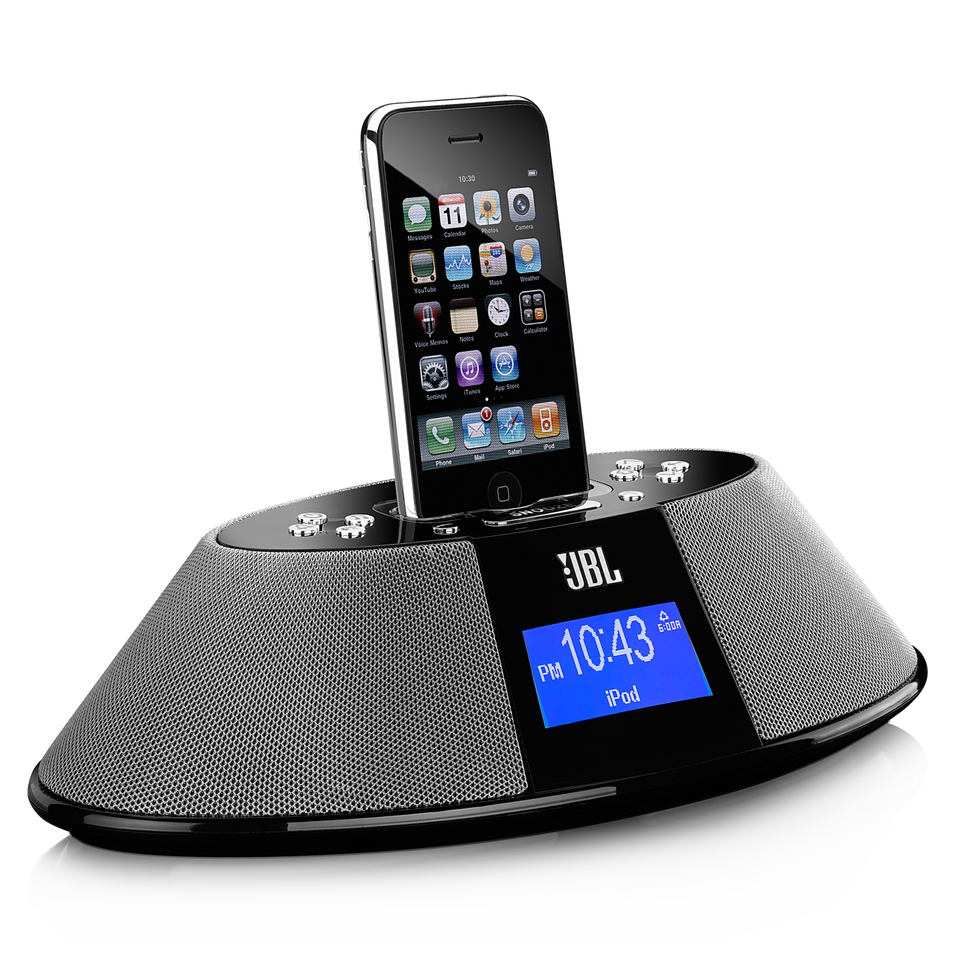 Can't find what you're looking for?
Call Us
To speak to our customer service specialist

1800-102-0525

Mon - Sun: 10:00 am - 7:00 pm (IST)
E-mail Us
Email our customer service team
365 days, we will reply within 24 hours
Email us