Jembe Wireless
Højtalersystem, der understøtter Bluetooth
Getting started with your Jembe Wireless
Product Specifications
Type

Computer Speakers
Power Requirement

12V DC, 1.5A
Power Consumption

0.5W (standby); 20W (maximum); 6W per satellite at 1% THD
Signal-to-Noise Ratio

>80dB
Frequency Response

80Hz-20kHz
Input Sensitivity/Impedance

250mV for rated power / >5k Ohms
Satellite Depth (in)

4-3/16
Satellite Height (in)

5-5/16
Satellite Width (mm)

106
Satellite Height (mm)

135
Satellite Depth (mm)

106
Satellite Width (in)

4-3/16
Satellite Depth (in)

4-3/16
Satellite Height (in)

5-5/16
Satellite Width (mm)

106
Satellite Height (mm)

135
Satellite Depth (mm)

106
Satellite Width (in)

4-3/16
High-performance Bluetooth entertainment system.
For more than 60 years, JBL® engineers have created, perfected and installed precise, naturally articulated sound in cinemas, arenas and recording studios around the world. But you don't need large settings like those to get the same JBL sound you've come to love – all you need is a Bluetooth® connection. Introducing the discreet and stylish JBL Jembe™ Wireless speaker system. Deliciously attractive, each of its two small speakers features a built-in power amplifier, a powered 2.0 computer system and a Slipstream port that creates rich bass with low distortion. If you don't want other people to hear your music, you can use the system's 1/8-inch (3.5-millimeter) headphone jack to get a more personal experience with your favorite headphones. This small and powerful system unobtrusively fits on your desk or bookshelf. But feel free to pump up the volume and roam about – its integrated Bluetooth technology allows you to stream your music wirelessly from your favorite audio devices.
No need to plug in when you're Bluetooth-enabled with the JBL Jembe BT wireless speaker system. Just connect your favorite personal audio device, such as your phone, tablet, MP3 player, or laptop, and press PLAY.
The HARMAN TrueStream™ technique is our guarantee that you will enjoy the best possible listening experience when you're streaming audio wirelessly via Bluetooth technology. Because you have many options for Bluetooth connectivity, our products always use the most current and most advanced option to ensure the highest-quality sound no matter what application or source device you use.
The JBL Jembe Wireless Bluetooth speaker system's Slipstream port technologies provide listeners with powerful, great-sounding bass and low distortion. Plug in your computer, laptop or personal music player, and hear bass that you can feel.
The JBL Wireless' built-in power amplifier pumps huge power and promises superb stability – action films will keep you on the edge of your seat while your music will keep your ears perked and emotions piqued. The Jembe Wireless system produces sound as it came directly from studio sessions.
Experience movies from your computer as if you were sitting in a theater. The Jembe BT's powered 2.0 computer speaker system has added acoustic performance that gives your sound depth and space.
Get an intimate audio experience with the Jembe Wireless' integrated 1/8-inch (3.5-millimeter) headphone jack, designed to work with your personal headphones.
The Jembe Wireless is small and stylish. Its JBL Weave design adds fabulous form to exceptional function.
The Jembe BT won't clutter your desk or home. And its speakers are compact enough to toss in a bag should you care to take great sound with you.
Images & Videos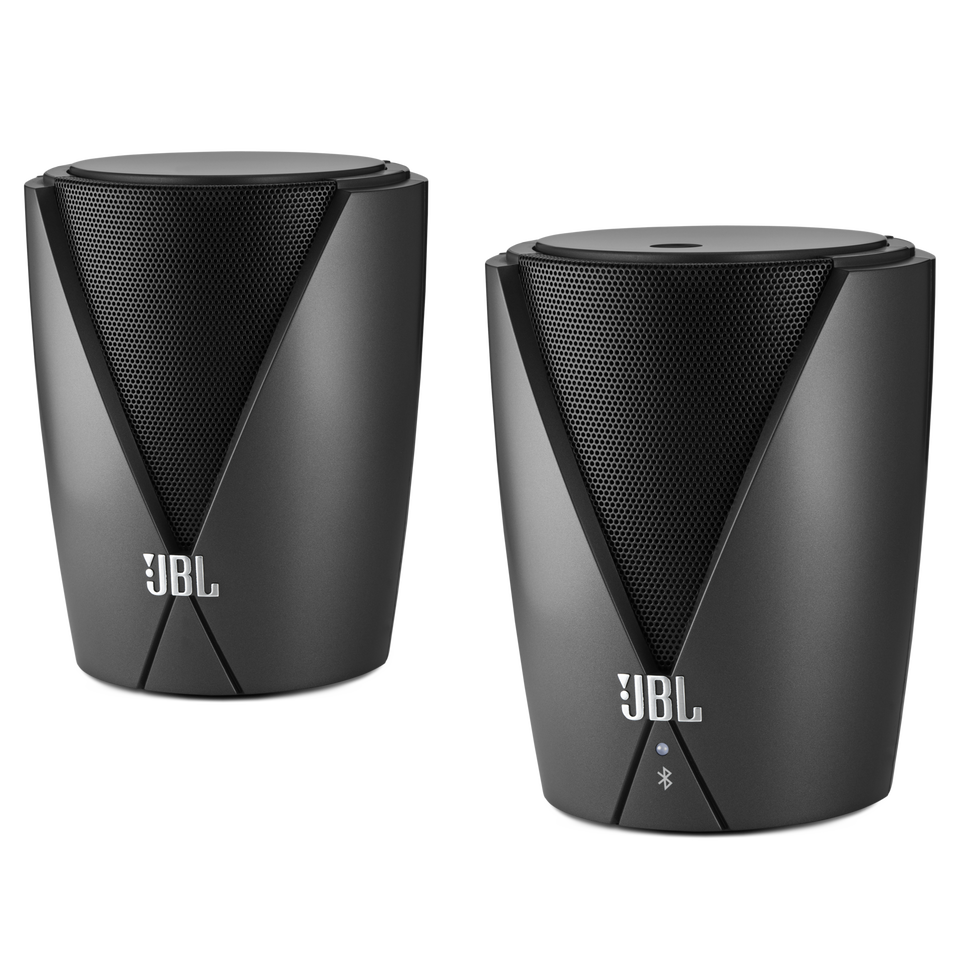 Can't find what you're looking for?
Call us
Call us now at: +45 32712498

Monday - Friday: 09:00 - 17:00

E-mail us
We are here Monday – Sunday to answer you as fast as we can!
Email us
Chat with us
Monday - Friday: 09.00-18.00
Saturday - Sunday: 10:00-16:00