ON TIME
JBL On Time™ – Time Machine Dock for iPod
Product Specifications
Drivers

One Ridge and two Phoenix neodymium drivers
Amplifier Power (RMS)

6 Watts per channel (left, right, tweeter)
Connections

Main Connection – iPod docking connector
Connections

Auxiliary – 1/8 inch (3.5mm) Mini stereo jack
Connections

Subwoofer Out
Frequency Response

70Hz – 20kHz
Input Impedance

>5k ohms
Signal-to-Noise Ratio

>80dB
Voltage Input

120V AC U.S., 100V AC Japanese, 230V AC Europe
For your iPod

YES
MSRP U.S.

$249.95 each
Weight

2.5 lb (1.2kg)
Dimensions

Diameter – 10 inch (254mm) Height – 10 inch (254mm)
JBL On Time; - Wake Up. Rock Out. JBL On Time is a high-performance sound center that lets you wake up to music stored on your iPod. Just connect your iPod, MP3 player or other music source to JBL On Time and experience clean, powerful and dynamic sound. The upward-firing tweeter and horizontal low and midrange transducers provide a 360-degree sound field. JBL On Time includes a radio, clock and dual alarm, and is the world's first time machine to include a menu-driven, intuitive user interface. JBL On Time incorporates the Apple iPod Universal Dock adapter and is compatible with most docking versions of the iPod, including nano and 5G versions.
Images & Videos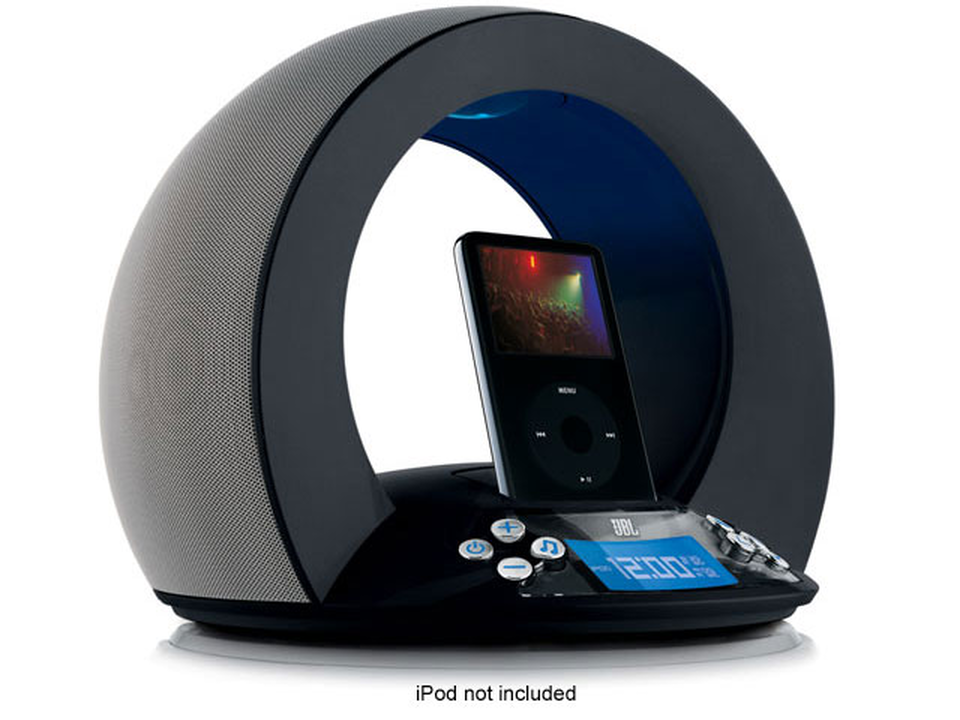 Can't find what you're looking for?
Call us
Call us now at: +45 32712498

Monday - Friday: 09:00 - 17:00

E-mail us
We are here Monday – Sunday to answer you as fast as we can!
Email us
Chat with us
Monday - Friday: 09.00-18.00
Saturday - Sunday: 10:00-16:00