W15GTI II
15 inch Differential Drive Design Subwoofer
Empezando con su W15GTI II
Especificaciones del producto
Series

Gti
Size

15
Sensitivity (2.83 volts @ 1 meter)

92dB
Recommended Amplifier Power (RMS)

600 watts
Nominal Impedance

3 or 12 ohms depending on wiring
Frequency Response

16Hz – 1kHz
Voice-Coil Diameter

3 inch (76mm)
Overall Diameter

5-1/4 inch (388mm)
Displacement

0.174 ft3 (4.93 l)
MSRP U.S.

$699.95 each
Power Handling (peak)

5000 watts
Power Handling (Peak)

5000W
Nominal Impedance

3 or 12 ohms
Peak Power

5000W
Sensitivity

(2.83V@1m) 92dB
Frequency Response

(-3dB) 16Hz – 1kHz
Power Handling (RMS)

800W
External Diameter (in)

15-1/4
Mounting Depth (mm)

260
Mounting Depth (in)

10-1/4
Mounting Cutout Diameter (in)

13-7/8
Mounting Depth

10-1/4 inch (260mm)
Cutout Dimensions

13-7/8 inch (353mm)
Completely rethinking how to create great bass from a 15" subwoofer.
If you are in search of the ultimate woofer, this is it! JBL has leveraged all engineering resources to develop quite simply the best subwoofer money can buy. Symmetrical Field Geometry ensures linear cone travel and low distortion at virtually any level by creating a uniform magnetic field around the coil. Die-Cast basket
JBL engineers designed the W15 GTi MkII subwoofer to produce uncompromising, mammoth bass from an amplifier capable of delivering up to 5000 watts of power. This is nothing short of incredible. What's more incredible is not just how much power this subwoofer can handle but how it handles the power by using patented, high-tech materials. In the end, this sub is the 15-inch (380-millimeter) reference standard for car audio subwoofer technology. Nothing else even comes close.
JBL W15GTi MkII subwoofers employ Differential Drive Design (DDD), a patented technology developed by the JBL Professional Audio Division. Differential Drive Design employs two 3-inch (76-millimeter) voice coils, each suspended in a separate magnetic gap. At low power, both voice coils drive the subwoofer's cone, and any motor nonlinearities are cancelled. As power input increases so that one coil rides completely out of its gap, the other coil still applies force to the cone for significantly higher power handling.
One of the breakthroughs in speaker design is the use of neodymium instead of heavier ferrite materials. Typically, audio makers use small amounts of neodymium in tweeters and midrange drivers. JBL engineers use generous amounts of neodymium in the W15GTi MkII subwoofer to ensure much greater magnetic-energy density. As a result, this subwoofer provides superbly accurate cone movements. It delivers a high degree of control that is virtually without comparison among car subwoofers.
The Kevlar fiber is a well-known composite material that the military and law enforcement use for bulletproof vests and combat helmets. The JBL W15GTi MkII subwoofer uses this rugged material in its cone. Since Kevlar material is extremely lightweight yet rigid and stiff, it's the ideal cone material to move large amounts of air without flex or distortion.
Nitrile butadiene rubber – commonly known as NBR – is a tough industrial gasket material. W15GTi MkII subwoofers use a single-piece surround and mounting NBR gasket that provides a complete seal between the front and back of the subwoofer – an essential design feature when you consider the high pressure levels that develop within subwoofer enclosures. NBR is also environmentally stable under a wide range of conditions and temperatures, which ensures that the subwoofer will replay sound in your car equally well during the summer or winter.
JBL engineers designed the W15GTi MkII subwoofer's proprietary die-cast aluminum frame from the ground up. Unlike the "off the shelf" frames in some other subwoofers, this sub's aluminum frame features significant venting and heatsink fins to add power handling. And since aluminum is a rigid material, it keeps the critical voice-coil components in perfect alignment while they travel through the linear-excursion range.
The W15GTi MkII subwoofer's progressive spider provides restoring force to the cone in varying degrees, depending on the amount of excursion – hence the name progressive. The spider allows the cone to move easily under subtle music conditions, which results in a more musical subwoofer. By progressively adding more restoring force as movement increases, the spider ensures that the cone travel is always controlled, under even the highest excursion conditions.
Conventional dual-voice-coil woofers use a pair of voice coils wound on the former and layered over the top of one another, and then both voice coils are centered in the speaker's magnetic gap. The W15GTi MkII subwoofer's voice coils rely on a push-pull system, each voice coil using its own magnetic gap. The two coils may be connected in series or in parallel to maximize an amplifier's output power. A Differential Drive Design (DDD) motor relies upon magnetic braking, which prevents damage from over-excursion.
Tinsel leads carry an audio signal into the voice coil. Because the W15GTi MkII subwoofer's tinsel leads are fully insulated, you need not worry about any arcing or electrical shorts. It's just one more detail that makes this subwoofer such a mechanical wonder.
The W15GTi MkII 10-inch (250-millimeter) subwoofer features rugged, gold-plated binding posts for the speaker-wire connectors that accept the large-gauge wire commonly associated with high-power subwoofers. With positive terminals placed on one side and negative terminals on the other, this subwoofer features a unique jumper system: A single input terminal connection is needed for parallel (3-ohm) or series (12-ohm) configurations.
Imágenes y vídeos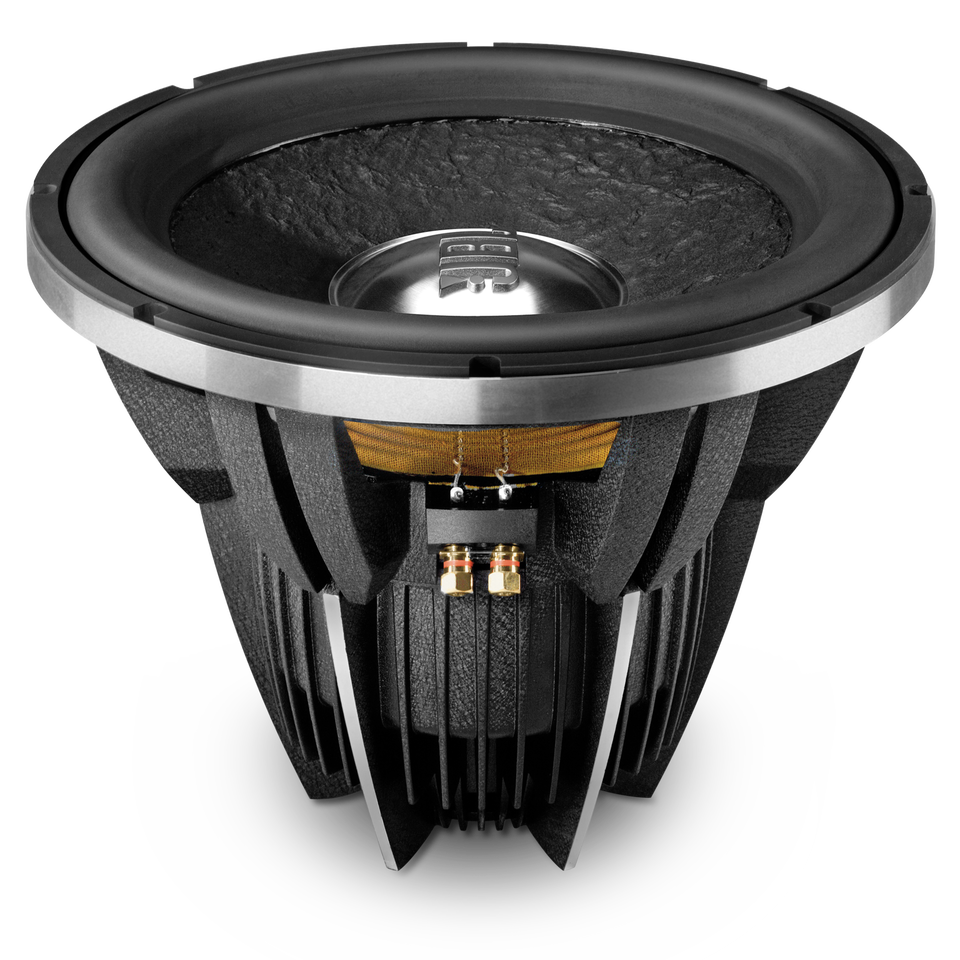 ¿No encuentras lo que buscas?
Contacte con Nosotros
Live Chat (ícono en la esquina inferior derecha)
Horario de Atención
De Lunes a Viernes: 08:00 a.m a 6:00 p.m
Sábados: 09:00 a.m a 12:00 p.m
Envíanos un correo electrónico
los 365 días del año.


Envíanos un correo electrónico