MS A1004
4-channel amplifier (100 watts x 4)
Vendido desde 2010 hasta ahora
Empezando con su MS A1004
Especificaciones del producto
Type

4-Channel
Series

MS Series
CEA Rated

Yes
MSRP U.S.

$599.95 each
Input Sensitivity

100mV
Remote Bass-Level Control Included

Not Included
1-Ohm Power Output

400-watt, four-channel amplifier, dual speaker outputs
Signal-to-Noise Ratio

80dB referenced to 1 watt, 90dB referenced to rated rated power
Frequency Response

(3dB) 10Hz-27kHz
4-Ohm Power Output

Proprietary DSP technology
2-Ohm Power Output

Connects to any analog signal
Width (mm)

210
Weight (lb)

5.57
Height (in)

2-3/4
Width (in)

8-1/4
Depth (in)

7-3/16
Weight (kg)

2.53
Depth (mm)

183
Height (mm)

70
Harness the DSP control and Class D power
There's nothing wrong with your car audio system that real power can't fix. The JBL MS-A1004 is a compact, four-channel amplifier that gives you up to 400 watts of raw power to use any way you see fit. It connects to any line-level or speaker-level output, and features onboard displays for easy, foolproof installation and configuration. A digital input mixer lets you map your inputs to any speaker outputs, and sophisticated network circuitry puts you in precise control of the crossover points and slopes of each channel pair. With great power comes great possibilities -- not to mention great sound -- and the MS-A1004 delivers on all counts.
The MS-A1004 is an efficient, full-range, premium Class D car audio amplifier. Since the MS-A1004 offers a frequency response of 10Hz – 27kHz (–3 decibels), it doesn't compromise on audio quality. Its Class D topology means lower current draw and operating temperatures, which translate into greater efficiency in delivering high-quality sound.
The MS-A1004 is a four-channel amplifier that can easily bridge channel pairs to deliver 2 x 200 watts into 2 ohms, which allows flexible configuration of one or more subwoofers, including a dual voice-coil (DVC) subwoofer. You can configure this full-range amplifier as a more powerful two-channel amplifier for premium front-component speakers or those in dedicated bandwidths such as midbass, midrange or high frequencies.
The MS-A1004 leverages the power of digital signal processing (DSP) with its unique input mixer. All output-level settings, channel assignments and active crossover functions are handled through this powerful DSP engine to highly accurate tolerances. Should power be disconnected or lost, the unit will retain all of your settings in a non-volatile memory. And DSP technology, found in many high-end signal processors, is built right in.
The MS-A1004 provides top-panel control via a combination LED display and rotary-encoder control with just two navigation buttons. All necessary setup processes are aided with a menu-driven CD that's included with the unit. Once you set up the unit, you need never worry about the controls being pushed or tweaked, since all settings remain in the unit's memory even when the power is disconnected.
The MS-A1004's digital input mixer features 97 individual crossover settings between 20Hz and 20kHz, for either low- or high-pass configuration, to match the needs of speakers and system configuration precisely. In addition, the unit lets you select three different orders of response (roll-off): 6, 12 or 24 decibels/octave.
JBL engineers have built the MS-A1004 for complete compatibility with any OEM (original-equipment manufacturer) audio system. The unit accepts input-signal voltages of up to 20 volts. (Speaker-wire-to-RCA adapters are included.) It can turn on with a wired input ranging from +5 volts DC to the standard +12 volts DC, allowing more flexibility with low-voltage turn-on circuits. If there is no turn-on circuit, programmable signal sensing can turn the unit on whenever an audio signal is present.
Setting and matching the input levels of the MS-A1004 is an easy and precise exercise with the help of the included setup CD. After you connect and configure the inputs, simply feed the amplifier an input signal and raise the signal source level to its maximum (undistorted) output volume. Then adjust the input controls until the checkmark icon is displayed to indicate that the unit has reached its optimum setting.
The MS-A1004 includes a set of pass-through, pre-amp level RCA outputs that are unaffected by the input mixer so that you can add amplifiers without using splitters or Y-adapters. It's an efficient way to provide system expansion flexibility without having to run additional cables or make any additional connections.
The MS-A1004 amplifier features robust connection terminals for power, ground, remote turn-on and speakers. The power/ground terminals accept up to 4AWG wire. (We recommend a minimum of 8AWG.) Speaker terminals for each channel pair accept up to 10AWG wire, making it easy to connect to either factory-installed or aftermarket speaker wiring.
The MS-A1004 amplifier has a modest footprint that allows you to install the unit just about anywhere. At 7-3/16 x 8-1/4 inches (183 x 210 millimeters), the mounting area is small enough to work in any vehicle without compromising space. With a height of only 2-3/4 inches (70 millimeters), the amplifier has plenty of clearance to fit under seats, behind panels or in other locations.
Imágenes y vídeos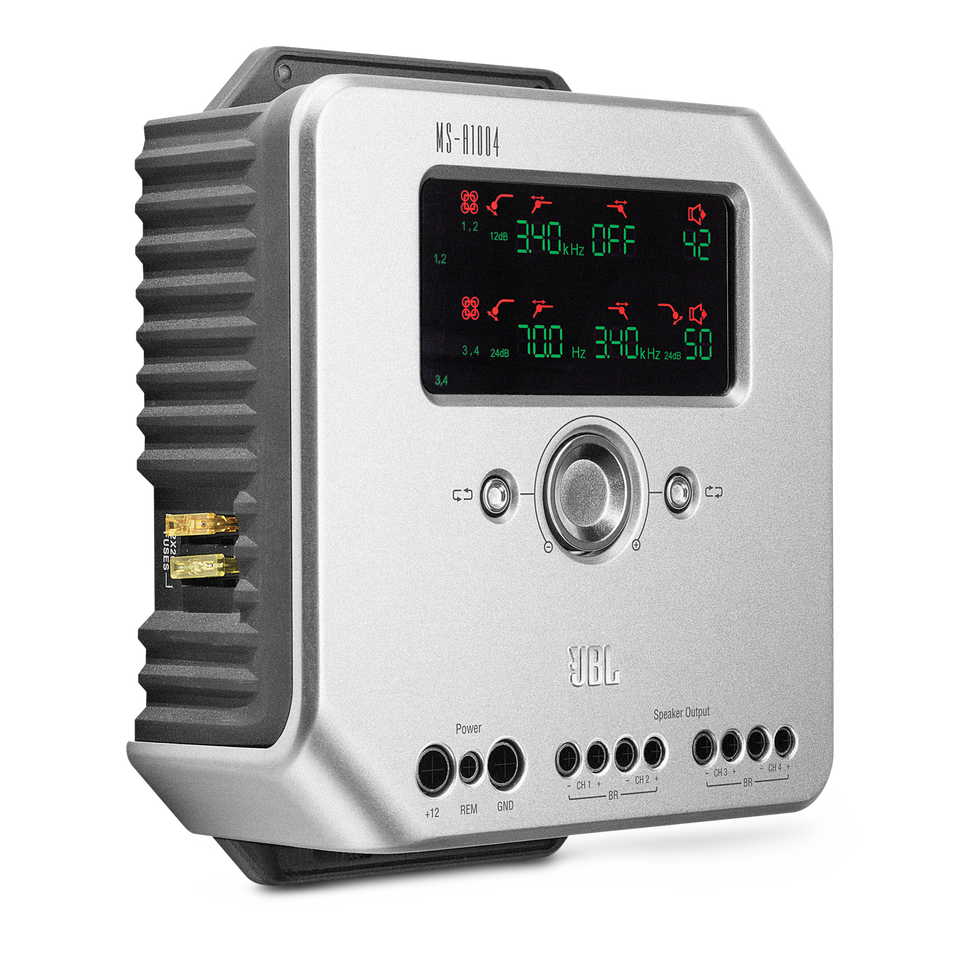 ¿No encuentras lo que buscas?
Contacte con Nosotros
Si compraste en JBL y necesitás realizar una consulta o información sobre tu pedido,
buscas el Live Chat en JBL.com
Horario de Atención
De Lunes a Viernes: 08:00 a.m a 6:00 p.m
Sábados: 09:00 a.m a 12:00 p.m
Si necesita atención con respecto al soporte del producto o garantías después de 10 días de la compra, contactános utilizando el canal de postventa a continuación:
Posventa
Habla con un experto sobre nuestros productos
Posventa a este número: 0800-333-0212


De Lunes a Viernes:
09:00 a.m a 6:00 p.m
Sábados:
09:00 a.m a 12:00 p.m
Envíanos un correo electrónico
los 365 días del año.


Envíanos un correo electrónico